on Sun Oct 23, 2016 9:01 pm
Introduction
Date: August 16, 2014
Who attended: Commander Leon Dunamis and his fiancee Cassidy Spark, as well as Lt. Vera Dayspur, Ingvarr the Cruel, Desmond Charlaigh, Veldar, Dismuhl,
- Leon had asked Moon to meet with him on Deverol island
- Leon informed them that this mission was commissioned by Lady Anjika Morgenstern. Cassidy reminded Leon that Jace's, (who defeated Raziel Kain, who was Lady Morgana's follower, with Claire Morgenstern, Falcon Arcana, and Psyche Truhart) last name was also Morgenstern.
- Leon informed them that they needed to go to Garenhoff, located at Wizard's Fief (home of the floating castle).
- When they arrived, they received a message from Lady Morgenstern's servant. Lady Morgenstern was not present as Leon was led to believe she would be. The message indicated that Lady Morgenstern believes her cousin Jace Morgenstern was lost in the castle.
- As the team pondered this, a large earth golem delivered a message from his master in the castle that they would not be successful in rescuing the MorningStar (Jace Morgenstern).
- While they were at the servant's home, they noticed her eyes would glow green sometimes. She didn't seem to realize it. Also, Desmond scanned the area and found dark oppressive other-worldly magic in the air. Leon confirmed that he felt darkness in the town.
- They found out from the servant there was a living Morgenstern in Garenhoff, Belladonna Morgenstern. Desmond and Cassidy questioned Belladonna, finding that Jace, his wife Claire, and Anjika, the very one who commissioned them, had visited the town a week earlier. Jace had tried to recruit Belladonna to join them in some mission about the castle, which she refused to do, as her sister had disappeared long ago, supposedly into the castle.
- Leon asked the group to rest so they could process all they had learned. They will reconvene at a later time. In the meantime, Ingvarr is debriefing Auchentoshan while Desmond and Vera research Garenhoff and the magics within the town.
This was part 1 The Introduction. Please join us next time for Into the Black - Descent.
on Sun Oct 23, 2016 9:01 pm
Lost
Date: August 20, 2014
Who attended: Leon Dunamis, Cassidy Spark, Gigas Lionhart, Valynn Lionhart, Falcon Arcana, Psyche Truhart

- When Leon returned home from Garenhoff the first night, Leon found a message under their door mat. Much to his and Cassidy's chagrin, Lady Anjika Morgenstern requested Leon meet with her bright and early back in Garenhoff.
- Cassidy attempted to get Leon to bring someone along, but he insisted it was already too late in the evening to get someone else from Moon to come with him. After a while, he was able to alleviate her fears for the most part.
- Bright and early the next morning, Leon kissed his sweet fiancee goodbye and told her he'd see her that evening. He also reminded her that if he wasn't there by nightfall to contact Gigas Lionhart, as he may have had more duties for Leon.
- Cassidy worked at her clothing shop all day, and closed up at 5:00pm as usual. Upon arriving home, Leon wasn't there. Cassidy promptly traveled to Deverol island to speak with Gigas and Valynn.
- Gigas and Valynn assured her that they did not have any extra duties for Leon. He did make them aware that he was going to Garenhoff that morning, but they too expected him back by now.
- Valynn suggested that Cassidy speak to Psyche, since Psyche is good with remote locating people. Valynn told Cassidy that in the meantime, she would assemble a team of Moon members, and head back to Garenhoff to see if Leon had run into any trouble. Gigas suggests staying back at headquarters with a team in case Leon returns there while they are gone.
- A worried and distraught Cassidy agreed to the plan, and after speaking with Gigas and Valynn, went straight away to Psyche and Falcon's house in Rurikton.
- Cassidy told Falcon and Psyche about the mission Moon was working on, and how Leon had gone off to speak with Lady Morgenstern alone, and that he was not back at the expected time.
- Before Cassidy could even suggest it, Psyche offered to try to find him psychically.
- Cassidy gave Psyche one of Leon's heavy armor gauntlets, and Psyche focused in on it by touching it. After a few moments of having her eyes closed and concentrating (she would have easily found the missing item or person by now) she opened her eyes, a tear rolling down her cheek, and informed Cassidy all she could see was darkness and shadows when she tried to focus on Leon.
- Falcon and Cassidy ask Psyche what this could mean, and Psyche said she wasn't sure, that she's never seen this when trying to locate either an object or a person before.
- Falcon suggested they go to Garenhoff, but Cassidy said that Valynn and Gigas already had a Moon team there. Falcon and Psyche offer for Cassidy to stay with them, and Psyche promises to keep trying to locate Leon.
- Cassidy decides to go to Hoelbrak to enlist her brother Lukas' help, and they go to Garenhoff together.
on Sun Oct 23, 2016 9:06 pm
Descent
Date: August 21, 2014
Who attended: Valynn Lionhart, Gigas Lionhart, Lukas Spark, Cassidy Spark, Ingvarr the Cruel, Desmond Charlaigh, Lt. Blaze Direfang
- Gigas and Valynn gathered the team at Deverol island, and briefed them on how Cassidy said Leon was missing. Gigas stayed behind with a separate team in case Leon returned and needed help, while Valynn took everyone else, and went to Garenhoff.
- Upon arriving at Garenhoff, the team saw that Cassidy had arrived with her brother Lukas. Everyone noticed that the sky was shadowed and the air had a weird quality to it throughout Garenhoff.
- Valynn decided to knock on Lady Anjika Morgenstern's door, and they were greeted by the elderly woman again. Talking to the woman did not really get them much information except that Leon had left with Anjika. The team pleaded with her for any information.
- Finally after speaking with the woman for a woman, her eyes began to glow green again, and soon she transformed into Anjika Morgenstern, revealing it had been a ruse. Anjika explained that Jace Morgenstern is her brother, and she feared that he and his wife Claire were dead in the castle.
- The team was not happy with Anjika's deception, and her continued insistence that Leon was fine, but did not want to see them. Valynn asked Ingvarr and Desmond to speak again with Belladonna Morgenstern while Cassidy, Lukas, and Blaze investigated a metal door upstairs that Anjika said Leon was behind.
- Lukas and Blaze attempted to open the door, only to be severely electrocuted. The 3 heard sounds like someone in agony behind the door, and were desperate to get in. A voice like Leon's but not quite told them to leave and not try to enter the door.
- Meanwhile, Ingvarr and Desmond found out from Belladonna there is actually a way into the castle, but only a Morgenstern, and specifically Anjika, could cast the portal in.
- The team questioned Anjika about the portal, the door, and Leon further, but she remained elusive in her answers, and deflective. Finally feigning offense by the team's lack of trust in her, she disappeared magically into the room with the metal door. Valynn then issued the order for the team to find any means and to employ any tactic necessary to enter the room.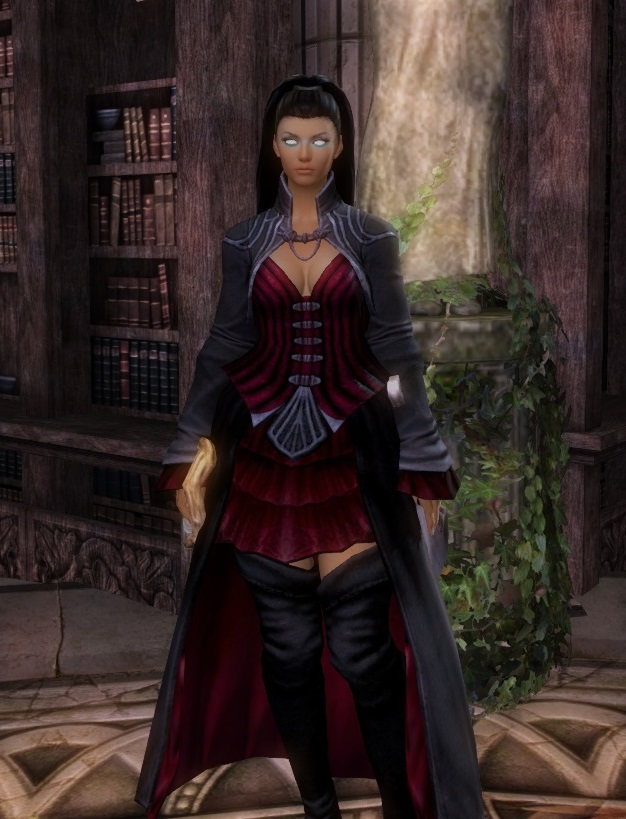 on Sun Oct 23, 2016 9:10 pm
Subjugation
Date: August 24, 2014
Who attended: Valynn Lionhart, Lukas Spark, Cassidy Spark, Ingvarr the Cruel, Desmond Charlaigh, Blaze Direfang, John Mohawke
- Valynn, Blaze, and Desmond got the electric wards off of the door with magic nullifying spells.
- Lukas and Ingvarr broke down the metal door and they all entered the room.
- There was a figure in a black hood behind Lady Morgenstern in the room.
- The hooded figure said he was Lady Morgenstern's guardian, and she was his Lady. He did not know who Leon was, but seemed to falter at hearing Cassidy's voice.
- Lady Morgenstern remained unhelpful and did not answer the team's questions directly. Instead, she insisted she only wanted their help, and was afraid for Jace and Claire Morgenstern. When the team pressed her too hard, the hooded figure made a ward to protect her, which Valynn later commented resembled a Wall of Reflection (a Guardian spell).
- Eventually, Lady Morgenstern used powerful old magic to teleport to the castle with the hooded figure.
- Valynn, Cassidy, and Blaze were able to magnify Desmond's magic with their own power, enabling him to create a portal strong enough to teleport them all to the castle. John, Lukas, and Ingvarr fended off attacking earth elementals until the portal could be made.
- Desmond was successful and the team teleported to the castle. After John used a healing spring to renew the magic users' energy, they are all seeking a way into the castle.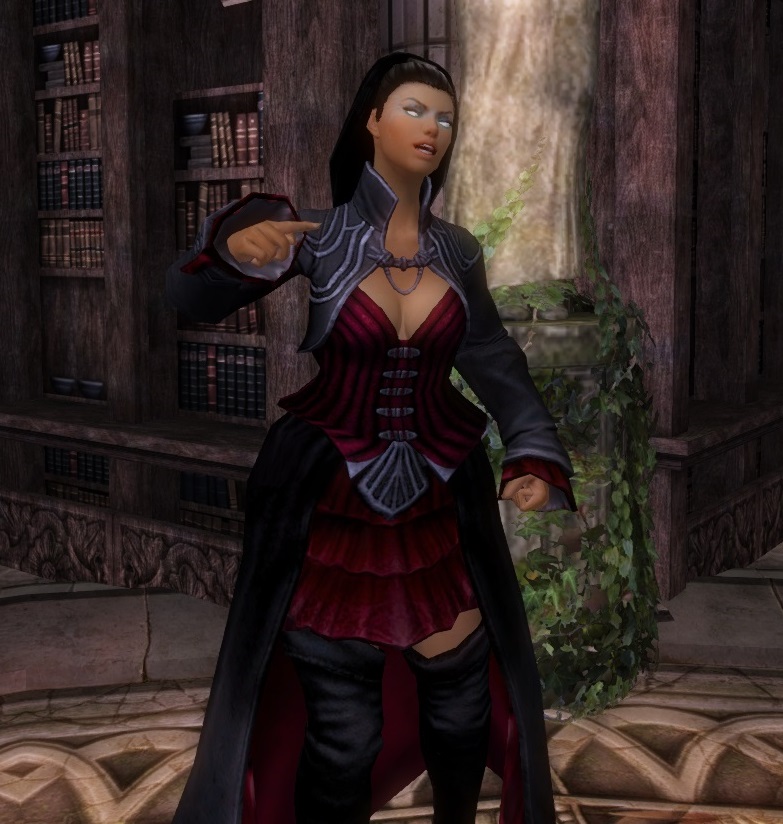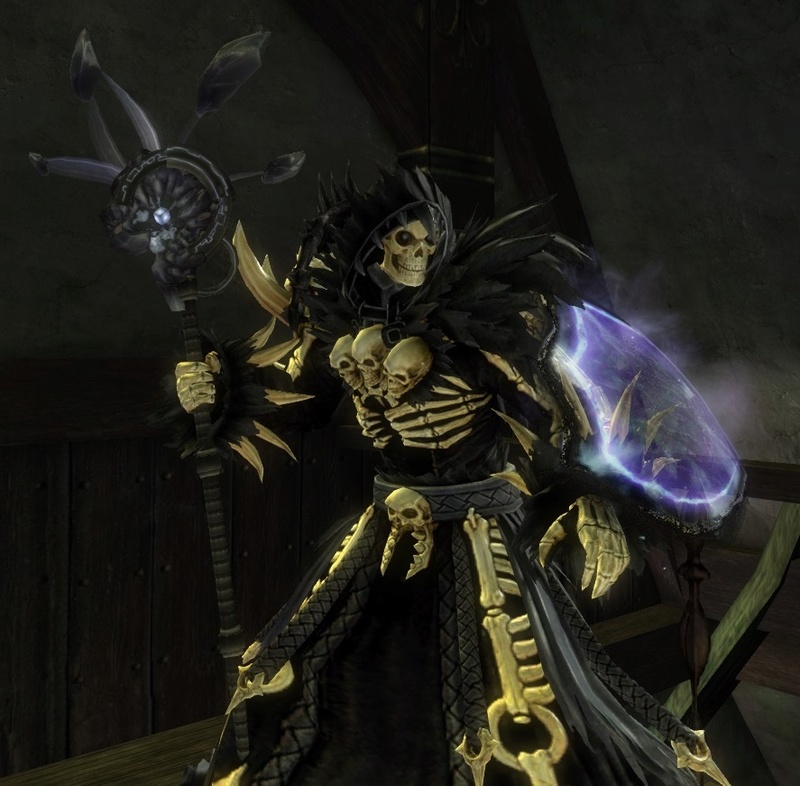 on Sun Oct 23, 2016 9:11 pm
Into the Black - Finale
August 28, 2014
Who attended: Valynn Lionhart, Commander Leon Dunamis, Cassidy Spark, Lukas Spark, Blaze Direfang, John Mohawke, Ingvarr the Cruel, Desmond Charleigh.
- The team recovered their strength after Desmond portaled them up to the floating castle. When they looked around, they noticed a Charr tending the garden in the courtyard. Valynn had Blaze approach him and the team questioned him, finding out that his name was Marius Darkmane. They also found out that he was just a groundskeeper, and had never been inside the castle. He seemed intent on making them leave, but didn't make any moves to ensure they left. Meanwhile, as the group was questioning Marius, John had politely asked for the restroom, and slipped off to find a way inside. He returned to discretely notify Valynn by a note in his hat that there was a rose trellis they could climb.
- Lukas tested the trellis, and it proved strong enough to bear his and in turn Blaze's weight. Seeing that it was safe, the team climbed up fairly protected from the rose thorns by Valynn's healing symbol laid over the trellis. At the top, Blaze healed Ingvarr's hands.
- At the top of the trellis they arrived at a patio with open french doors. Lukas entered the room and saw noone in it, but heard a woman's voice on the other side of the door to the hall. He arrived back on the patio just in time to find the others musing about a peculiar mist swirling around them. The mist formed into Lady Anjika Morgenstern. Before the team could really question or subdue her, the hooded figure appeared.
- After the hooded figure appeared, Lady Anjika disappeared as usual. This time the team fought with the hooded figure. Working together they were able to break through his defenses and subdue him. As he fell to his knees, his hood fell back, revealing it was Commander Leon. John and Valynn instantly began healing him, his face was bruised and cut, and he was thinner. The fact that he had been tortured was evident. His external wounds were healed, but he remained unresponsive, seemingly stuck in a nightmare.
- Lt. Blaze and Lt. John led the rest of the team to find Lady Morgenstern while Valynn and Cassidy stayed behind to help Leon. The castle was vast and in their frustration through searching so many rooms, Ingvarr and John started making noise to draw Lady Anjika out.
- Finally when they reached the great hall, she was waiting for them. Battle ensued and Lady Anjika was eventually subdued by the team. It was John's white raven Beatrice that helped turn the tides in the team being able to subdue her as it pecked her eyes out. The team immediately bound her and began questioning her about Leon and why she had done all this. The most they could get was that her master wanted her to recruit strong individuals for his army. She had heard of Serenity Moon as their reputation for getting results is well known. Researching the group a little, she learned of their dealings with Evelyn Morgana, Raziel Kain, and Jace Morgenstern. She revealed that she was not even part of Jace's family, but rather took the name for her fake persona. It turns out that Leon was merely a toy to her, and the ruse that Jace and Claire Morgenstern were lost in the castle was just part of her plan.
- When questioned about who her master was, she said she would rather die by their hand than reveal it. She did offer to return Leon's mind if they allowed her to feed off one of their energies. She claimed the person would not be harmed, but merely left weak, maybe missing a memory or two. The team declined, and took her down to where Leon was. When they got there, she said the chant to release Leon on the promise from Ingvarr that she could take one of their's energy. But she never got the chance. After Leon woke up, the team started to question her again about her master. Before she could answer, a green beam of energy whisked her away. Leon only remembers small bits and pieces of the past few days.
- Everyone is happy to have Leon back. Valynn promises them all a large bonus, and reminds them that they should keep their eyes open for if Anjika resurfaces. As they were parting, Lt. Blaze requested to step down from his rank as Lt, but Valynn refused, telling him they would talk one on one after they rested.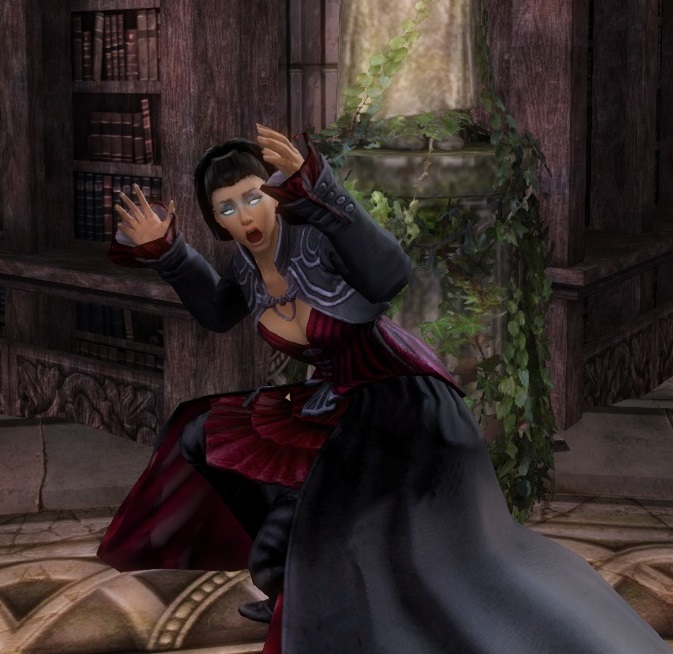 on Sun Oct 23, 2016 9:14 pm
Epilogue
Date: August 30, 2014
Who attended: Commander Leon Dunamis and his fiancee Cassidy Spark
- After Lukas helped Leon and Cassidy home, Leon decided to tell Cassidy more about what he had remembered. He was nervous because some of what Lady Anjika made him think while under her spell might hurt Cassidy. Since they're honest with each other, he decided to tell her.
- He went to Lady Anjika Morgenstern's early that morning as planned, but when he arrived she was acting strangely and her eyes were glowing, which he hadn't seen her do before. Still thinking that she was the victim, he moved closer to see if she needed aid. However, it was that moment she chose to blow a black powder into Leon's face while chanting "give to me what isn't mine, angelic beauty; heart divine. Taken from another love and crush the purity from above. You are mine".
- The next thing Leon knew, he was behind a metal door in an attic. Sometime later, he remembers hearing Cassidy, Lukas, and Blaze at the door. Inside his heart was conflicted. On one hand, he was happy they were there to help, but on the other hand he felt compelled to tell them to leave. After that, it was all agony for several minutes. When the agony stopped, his heart and mind were filled with one desire, and that was for Lady Anjika Morgenstern.
- When Anjika disappeared upstairs, she told him that if he protected her, she would give him what he desired. Leon does not remember much else, except Lady Anjika Morgenstern mentioning a master, and that she idolized Evelyn Morgana (Cassidy's birth mother). It was Anjika's desire to follow in her footsteps and pick up where she left off. The next thing he really was conscious about was being awakened with the team surrounding him.
- Leon vows to continue to investigate the castle (not alone, he promises Cassidy), and will meet with Valynn soon to discuss the ongoing investigation. For now, all they know is that Anjika and her master are still potential threats.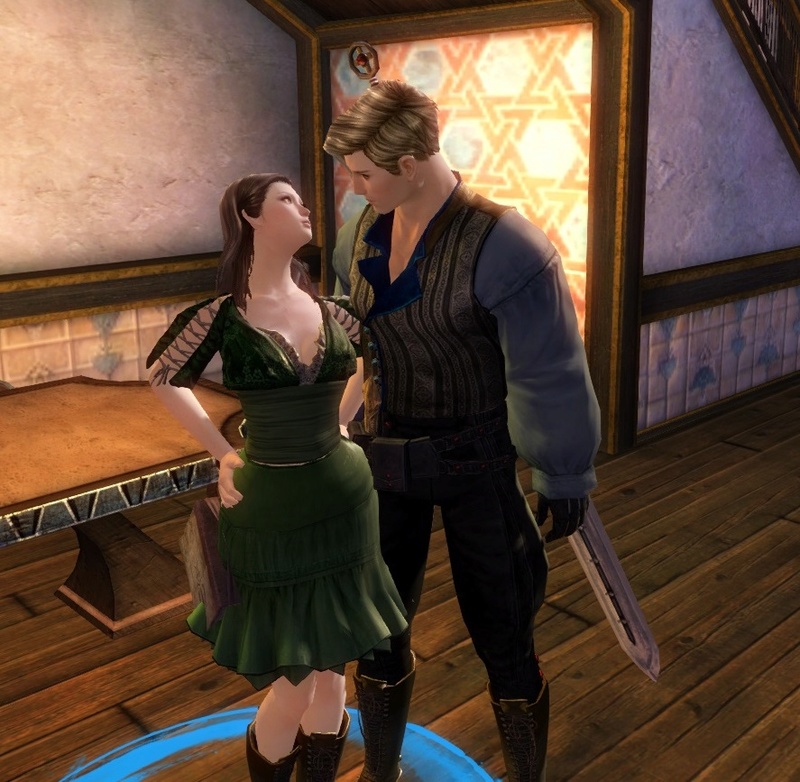 Permissions in this forum:
You
cannot
reply to topics in this forum