on Sun Feb 05, 2017 10:12 pm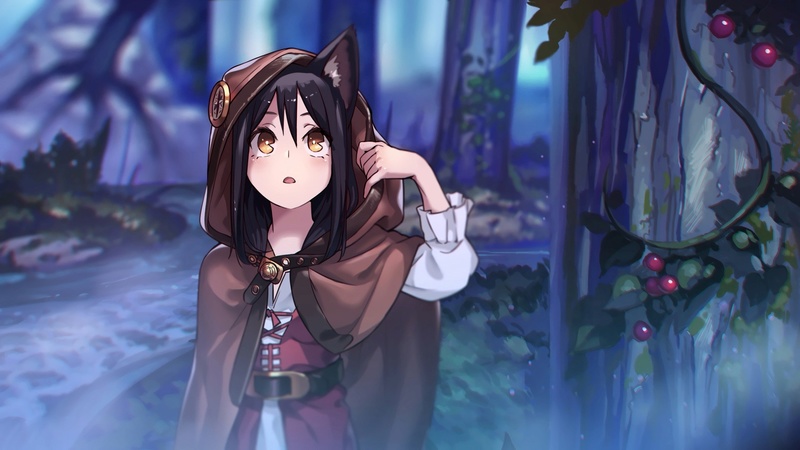 Name:
Yana Dragomir
Pronunciation: Yawn-ah
Also Known As:
Kitty, Ana
Profession:
Chronomancer, Former Member of Durmand Priory
Job:
Unknown
Home:
ADD
Age:
24 years old
Height:
5'3"
Weight:
92 lbs
Status:
Alive
Significant Other:
Needs
Known Enemies:
Scholar Marra
Strength *******    Intelligence **********  Magic **********
Speed **********  Endurance ********       Skill **********
Personality:
Yana is calm natured, patient, curious, confident, and selfless. Her stubbornness can get her into trouble, but is good since she won't give up on anything(if she does, something is SERIOUSLY wrong). She commonly will make puns and jokes, on the good days; if you pay attention, you will hear a quiet purring. On the bad days, which are rare for this curious hybrid, she will give up on something and bury her emotions behind a wall until they explode.
Preferred Weapons:
She prefers primarily using her Katana, given to her by her grandmother. If need be, she will use a long sword and a shield, specially made for her sister Lilly(before Lilly ran off, but Lilly gave Yana the set for remembrance).
Combat Abilities:
Yana specializes in time and illusion magic, but has extra cat-like abilities(that can be semi-helpful in battle). If necessary, she could fight with a greatsword, sword, or shield without any magic use. In battle, Yana will fight both ranged or close up. Generally, her decisions are spur of the moment reactions that can cause grave consequences for her later.
Brief Physical Description:
Yana is very short and skinny for a human of her age, and has a semi-muscular form. Her jet-black hair is on the long side. Her eyes are chocolate brown with a tiny
usually unnoticeable
fleck of green(near the top of her iris in her right eye). Her light fair skin has a huge contrast to her dark hair and eyes. Her face structure and features resemble her Canthan great grandmother. Cat ears, that match her hair, protrude from her head; she also has a thin, long, black tail. Her tail naturally dives into curves and twists.
Brief Background Story:
Yana is the first-born twin of Ayla and Fabian Dragomir, who were famous in the Durmand Priory. Her parents took their research to the point of not caring about anyone else, when Yana was age ten. Yana promised she'd never do that.
One day when Yana was only ten years old, her parents couldn't find a test subject for one of their experiments. Yana's twin, Lilly had just run away a week before which left Yana with her parents, so Yana was who they turned to. They told her they were going to test a machine on her in a gentle manor; they didn't mention what the experiment was or give her an option. Their experiment was to see if they could make hybrids to fight the dragons. They put a black cat inside their machine; then Yana. Once it turned on, Yana felt a roaring pain. It was revealed, once the machine turned off, Yana had a set of cat ears, the green fleck in her right eye, and a long tail to match the ears. (She also had acquired other traits: slightly longer canines, the ability to land on her two feet when she jumped(most of the time), and she could purr.)
After that, Yana studied illusion magic in her free time. Her goal was to be able to hide her cat features. As time passed by, the young girl got outcasted for being 4% cat. Her parents had gotten in trouble for their experiment, as they had harmed their daughter. A cure was never found for Yana.
By the time Yana was sixteen, she'd grown to ignore the judgement and felt mostly comfortable with her extra traits. (Though, today, Yana wears a hood when meeting new people.)
Only one year later, Yana's parents passed away from poison. It was suspected they finally felt guilt for all they'd done and committed suicide.
At eighteen years old, Yana joined the priory. She researched but refused to do experiments. The priory understood why and what she'd been through. Five years after, she left the priory to explore the world for a way to help the world.
Now at twenty-four, she runs across a guild that sparks her interest. And this is where her story begins.
Other:
She loves food, adventure, and puns.
on Sun Feb 05, 2017 10:30 pm
Spot Reserved for Azula Hokkaido
on Sun Feb 05, 2017 10:31 pm
Spot Reserved for Lilly Dragomir
on Sun Feb 05, 2017 10:31 pm
Spot Reserved for Natalie Dragomir
on Sun Feb 05, 2017 10:32 pm
Spot Reserved for Neppy Rose
on Sun Feb 05, 2017 10:33 pm
Spot Reserved for Scholar Marra

Permissions in this forum:
You
cannot
reply to topics in this forum